3 litre Whitley Anaerobic, stainless steel jar
Ref: A00005
Rollover Image to Zoom
Robust stainless steel anaerobic jar that will accommodate 9 x 90mm Petri dishes - 3 litres. These jars have a positively located lid fitted with the unique Whitley Schrader Valve System® and carrier clips for Low Temperature Catalyst Sachets. They can be used with either gas generating envelopes or cylinders of anaerobic gas mixture and will vent automatically if excess pressure is applied.
All jars are supplied complete with 2 valves; the appropriate number of Low Temperature Catalyst Sachets and an O'ring. In addition, the following spares are packed inside the jar: 2 valve cores, an O'ring, 1 Low Temperature Catalyst Sachet and 6 nitrile washers.
Height = 19cm
Diameter = 16cm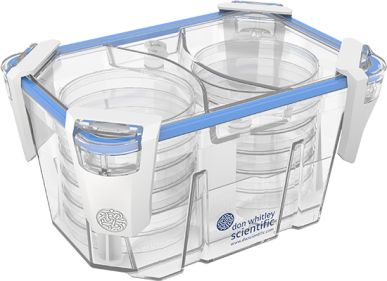 Or choose the Whitley Incubation Box if you need a stackable, transparent 'jar' ...
Whitley Incubation Box