Whitley H35 Hypoxystation

Create hypoxic conditions within a controlled and sustained workstation environment
Rollover Image to Zoom
The Whitley H35 Hypoxystation creates hypoxic and anoxic conditions within a controlled and sustained workstation environment. It is ideal for cell and tissue culture researchers wanting to accurately control oxygen, carbon dioxide, temperature and humidity. Applications for this instrument include cancer research, neurology and cardiovascular research, as well as a many other types of cell culture work.
With the H35 you can control oxygen in 0.1% increments up to 20%; carbon dioxide in 0.1% increments up to 15%; and relative humidity up to 80%. This provides a great deal of flexibility in your research and confidence in your results.
The H35 is also available as an H35 HEPA Hypoxystation, a cell culture chamber ideal for those requiring HEPA filtration, as well as being able to accurately control parameters. Levels of atmospheric cleanliness inside the workstation exceeds the requirements of ISO 14644 Class 3. We can provide proof of atmospheric cleanliness.
If you need to aspirate biological liquid waste from inside the chamber, order with a Vacuum Take-off Port and the Whitley AsPROvac for the perfect package.
An ideal solution for Seahorse Analyzer users is to purchase the H35 along with the new Whitley i2 Instrument Workstation. These two workstations can be connected via the Whitley Transfer Tunnel, enabling preparation of cell lines under hypoxic conditions and their transfer directly into the i2 without exposure to air.
Equilibrate your media
Although the Hypoxystation allows tight control of the conditions under which cells are cultured, cells may still be unintentionally exposed to excess oxygen during media changes if the fresh media has not previously been equilibrated with the incubation atmosphere. With the Whitley Media Conditioner (UK Patent No. GB2579704) you can equilibrate your liquid media rapidly and ensure even greater accuracy in your research.
This cell culture incubator is available with removable front to facilitate thorough cleaning and the transfer of bulk samples or larger pieces of equipment for use in the workstation.

Built-in rapid airlock to ensure samples can be transferred into the workstation atmosphere as soon as possible (only takes 60 seconds).

Colour, touchscreen control panel for ease of use and for visual display of parameters such as oxygen level, carbon dioxide level, temperature, humidity, and airlock cycle status.

Available with fully automatic humidification system so you can add moisture AND maintain a sterile environment.

Fully integrated gas control avoids bulky add-on systems and reduces the need for additional bench space.
Accommodates up to 44 x 96 well plates or 84 x T25s
Airlock Cycle Time (seconds)
5°C above ambient up to 45°C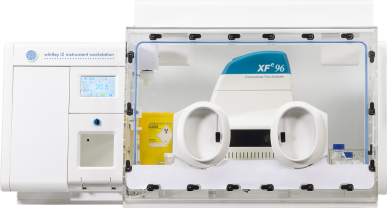 The H35 can be connected to the i2, perfect for Seahorse XF Analyzer users.
Whitley i2 Instrument Workstation