Ideal for the isolation and study of fastidious organisms
Rollover Image to Zoom
The Whitley M35 Workstation is a 4-gas system with built-in oxygen, carbon dioxide and hydrogen sensors. Precise gas concentrations can be programmed, which is perfect for manipulating samples in a sustainable microaerobic environment. Whitley M Range workstations are extremely flexible in use, allowing anoxic/anaerobic, microaerobic or hypoxic atmospheres to be created, if desired, without the need to change incoming gases.
These workstations were originally designed for the study and isolation of microaerophilic organisms such as Campylobacter spp, Helicobacter pylori and other similarly fastidious organisms. However, due to the ability to control the atmospheric from 0% to 20% oxygen, these systems are widely used as both microbiology and cell culture workstations.
As with our other microaerobic and anaerobic workstations, the Whitley M35 can be specified with the Whitley Automatic Humidification System. This system is especially beneficial in the cultivation of microaerophilic bacteria such as Campylobacter spp. Our own laboratory tests have indicated that Campylobacter colonies grow larger and exhibit more typical morphology when incubated in an atmosphere with elevated humidity (at least 75% RH).
A range of optional accessories, such as data logging, single sample entry system, removable front and cable glands are available to tailor this workstation to your particular requirements.
The M35 can accommodate up to 600 x 90mm Petri dishes.
A rapid, 12 litre airlock that can transfer 40 plates in only 60 seconds.
Intuitive colour touchscreen interface with PIN-code protected user access levels.
Ethernet-enabled for remote access to touchscreen.
Data download facility that allows you to record workstation parameters and download stored data in seconds for traceability and reference.
NEW - motorised height adjustable trolley now available for the Whitley M35.
Airlock Cycle Time (seconds)
Standard 60 (Option to increase in 1min increments to 5mins)
5°C above ambient up to 45°C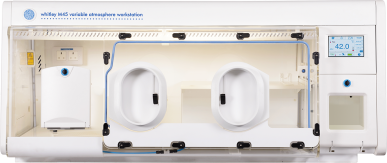 For a little more space to organise yourself, try the M45 with Instant Access Port
Whitley M45 Workstation