A huge microaerobic workstation that 2 people can use at the same time
Rollover Image to Zoom
The Whitley M95 Workstation is a 4-gas system with built-in oxygen, carbon dioxide and hydrogen sensors. Precise gas concentrations can be programmed, which is perfect for manipulating samples in a sustainable microaerobic environment. Whitley M Range workstations are extremely flexible in use, allowing anoxic/anaerobic, microaerobic or hypoxic atmospheres to be created, if desired, without the need to change incoming gases.
This workstation is ideal for the study and isolation of Campylobacter spp, Helicobacter pylori and other similarly fastidious microaerophiles, however, due to the flexibility of the atmospheric control (from 0% to 20% oxygen), these systems are also widely used for both microbiology and cell culture applications.
Whitley Microaerobic Workstations provide the most flexibility of any models in the Don Whitley Scientific range, allowing anoxic/anaerobic, microaerobic or hypoxic atmospheres to be created if desired without the need to change incoming gasses.
The large 36 litre airlock with powered internal door provides effective sample and equipment transfer in the fastest possible time whilst ensuring the minimum amount of oxygen is introduced into the chamber.
The M95 is now available as an M95 HEPA, fitted with the Whitley Internal HEPA Filtration System. All the atmosphere passes through the filter hundreds of times an hour, which ensures the chamber environment is cleaned quickly, providing levels of atmospheric cleanliness inside the workstation that exceed the requirements of ISO 14644 Class 3.
Huge chamber capacity of up to 1,400 x 90mm Petri dishes.
Four oval ports enable you to work gloved or bare handed.
Each porthole also acts as a mini-airlock so you can transfer up to 10 plates each time you insert or withdraw your arms, so reducing airlock cycles and gas usage.
Colour, touch-screen control panel for ease of use and for visual display of parameters such as temperature, humidity, and airlock cycle status.
Reminder to perform calibration can be set for between 7 and 21 days.
Optional unique HEPA Filtration System.
Available with three different types of single plate entry system.
Automatic commissioning cycle to save you time and resources.
10 plates per port + 90 plates via airlock (130)
Airlock Cycle Time (seconds)
Standard 300 (Option to reduce to 240, 180, 120 or 60)
5°C above ambient up to 45°C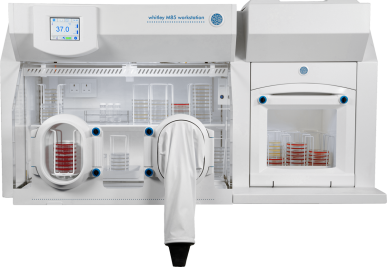 Or try the M85 if you need the same sized airlock but less incubation space.
Whitley M85 Workstation