Whitley GMP Anaerobic Workstations and Live Biotherapeutic Products (LBP)

Live biotherapeutic products (LBPs) are medicinal products containing live microorganisms as active substances (drugs) to treat, prevent, or cure diseases in human subjects. Almost all LBPs emanating from the intestinal microbiota comprise strictly anaerobic bacteria, with some such as Faecalibacterium prausnitzii and Christensenella minuta, being exquisitely sensitive to trace oxygen levels.
LBP development begins with isolation, banking and characterization of the potentially therapeutic bacterial strain(s), requiring multiple stages of culture and manipulation before the initial Research Cell Bank (RCB) is obtained. Purity of the bacterial culture is essential and this can be facilitated by performing anaerobic culture in a workstation equipped with HEPA filtration to remove bacterial and particulate contamination from the incubation atmosphere.
Management of the cell banking system for LBPs is critical, as it contains the active substance of the product itself and may directly affect its quality, safety and efficacy. After comprehensive characterisation of the strain(s), the Master Cell Banks (MCB) and Working Cell Banks (WCB) must be prepared from the RCB in a GMP environment.
Whitley GMP Anaerobic Workstations have been developed for use in processes following GMP to provide a strict anaerobic internal atmosphere combined with the functions of a pharmaceutical isolator.
These workstations exceed the requirements of Grade A air cleanliness (EU GMP) and ISO 14644-1 Class 3 both at rest and in operation. They combine sterile laminar airflow, positive operating pressure, and physical isolation to provide highly effective product protection. As a completely closed, re-circulating, isolator system, a Whitley GMP Workstation can be housed in a Grade D environment during GMP compliant use.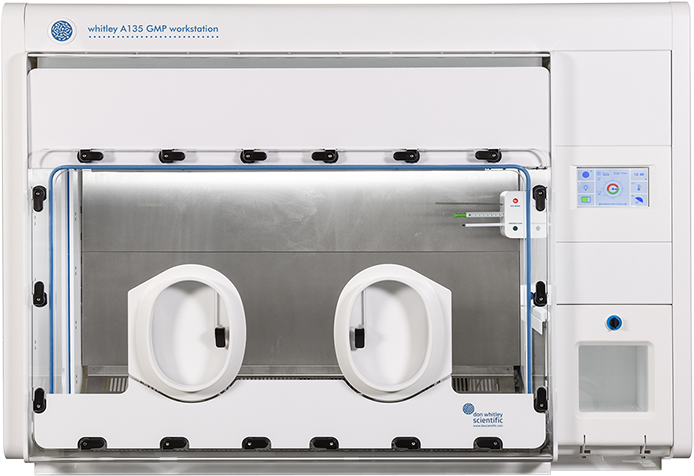 For further information or to request pricing or a demonstration, please contact us on sales@dwscientific.co.uk