Natasha Bury receiving the 1st place prize from A. Pridmore
On 10 May 2023, Don Whitley Scientific continued their long-standing sponsorship of final year research project poster presentations within the School of Molecular and Cellular Biology at the University of Leeds.
DWS staff members Andrew Pridmore (Head of Science) and Beth Rooke (Marketing) attended the poster presentation to award prizes to final year undergraduates whose posters had been awarded the highest marks in each of two categories: literature review and practical laboratory research. The posters were produced by students undertaking various degree courses within the School, including Microbiology, Biochemistry, Biotechnology with Enterprise and Natural Sciences.
All of the posters were presented to an excellent standard and the judging process was difficult, but after some debate the top three posters in each category were decided as follows:
Literature review: Laboratory projects:
1st – Angel Patel 1st – Natasha Bury
2nd – Maya Reid 2nd – Alexander Ferreira
3rd – Gabriella Greenwood 3rd – Ella Starbuck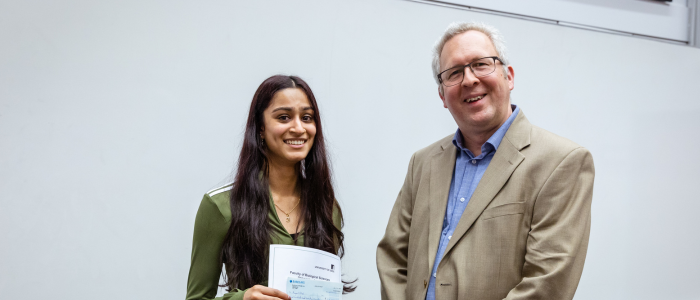 Angel Patel receiving the 1st place prize from A. Pridmore
We thoroughly enjoyed attending the poster judging and prize giving. As usual, the event was very informative with regard to current research interests within the School. In particular, this year's posters demonstrated how much work is ongoing in the field of the human intestinal microbiota and its role in health and disease.
We will take this opportunity to wish success to all final year undergraduates who are now taking their examinations and will be graduating in summer 2023. We look forward to continuing our relationship with the University of Leeds and viewing next year's posters.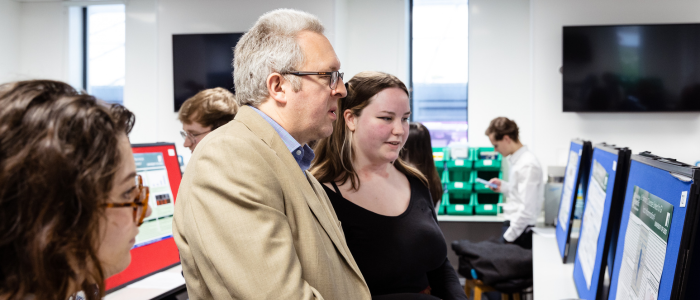 Andrew Pridmore and Bethany Rooke discussing a students project