Don Whitley Scientific has developed an all-in-one laboratory aspirator which ensures that biological liquid waste can be aspirated and disposed of quickly and safely.
The AsPROvac is a flexible system with 20 vacuum levels allowing the user to determine the best aspiration speed for the application – whether it is delicately removing supernatants or rapidly emptying larger culture flasks.
Supplied with a 4 litre shatterproof waste bottle and a range of adaptor tools as standard, the AsPROvac offers a versatile solution for aspirating from a wide range of vessels.
Ideal for general laboratory use, the AsPROvac can also be used with a Whitley Hypoxystation fitted with a vacuum take-off port.
Extremely user-friendly, the AsPROvac has several innovative touches that set it apart from other aspirators on the market.
Here are 10 reasons why this could be the aspirator for you: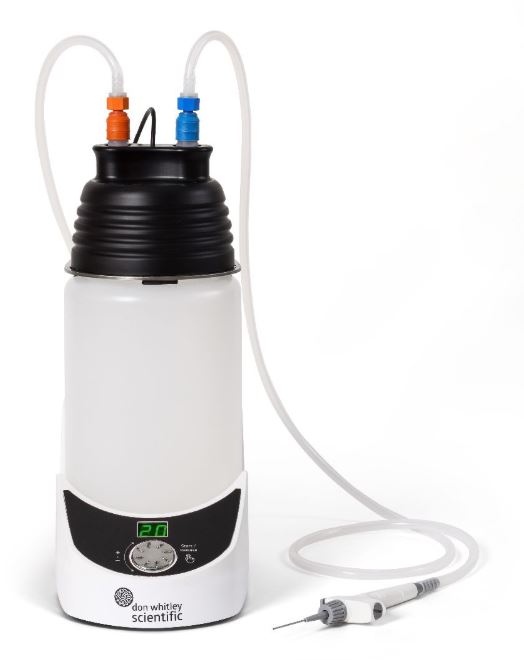 Colour-coded, quick release tubing connectors to ensure the product is assembled correctly and quickly.
Integral display showing the vacuum level selected.
A compact footprint with the bottle set low in the holder to provide a solid, stable base and to prevent bottles from being knocked over.
Lightweight so can be moved around the laboratory with ease.
Additional ergonomic hand holds on the base for easy lifting and handling.
All parts which come into contact with liquid waste are autoclavable.
Equipped with a novel, quick-click lid – no multi-turn screw that the previous user has over-tightened!
Features a hydrophobic filter for user protection.
Liquid level 'full' indicator.
Self-closure connectors avoid the escape of liquids and aerosols.