The genus Actinomyces currently holds 49 species, with 26 species being implicated in human clinical infections, and 4 species being of particular clinical relevance: A. israelii, A. gerencseriae, A. meyeri and A. odontolyticus [1]. They are Gram-positive, filamentous commensal organisms of the oral cavity and upper GI tract that are well known to be cariogenic, as well as being strongly associated with actinomycosis, abscess formation and infection of the ear, nose and throat [2,3]. Actinomycosis is a rare chronic disease and pathogenesis is defined by the anatomical location. It is often misdiagnosed because Actinomyces are slow growing, require anaerobic conditions and are nutritionally fastidious [1]. Furthermore, the clinical signs can suggest other infections or malignancy, due to invasion of surrounding tissues [2,5].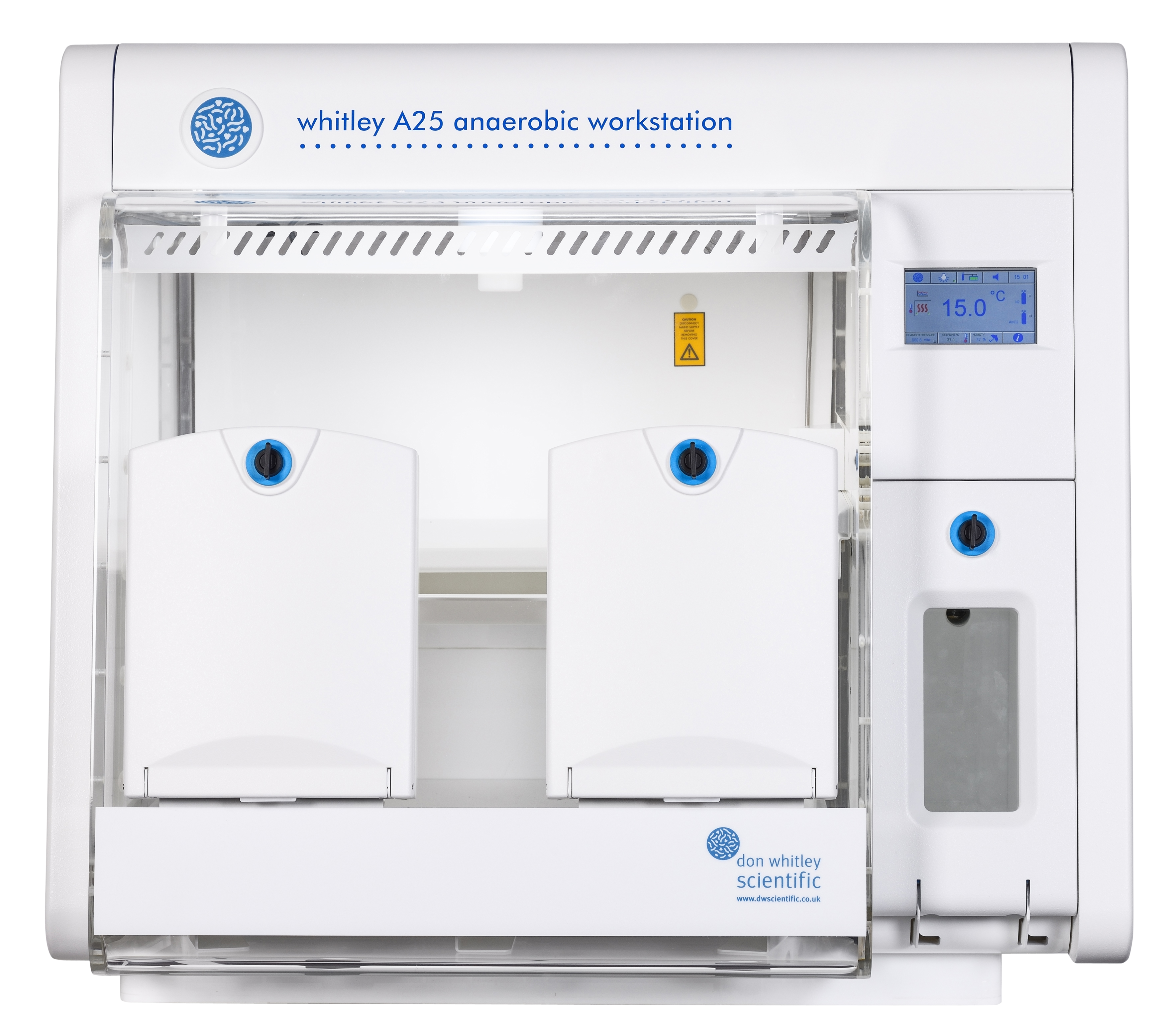 The Whitley Anaerobic Workstation range provides excellent conditions for the processing, incubation and examination of samples without exposure to atmospheric oxygen, ideal for this application.
Due to their clinical significance, research into the roles of Actinomyces spp. within human disease is ongoing. A recent study conducted by Bilgilier et al (2022) found that Actinomyces spp. are not the initiative factors in medication-related osteonecrosis of the jaw development amongst early-stage breast cancer patients, and that bacterial loads of Actinomyces spp. did not significantly differ between the patients and healthy controls. The group therefore concluded that Actinomyces spp. are opportunistic pathogens that proliferate in a new niche when there has been a disruption within the bone tissue [4]. Monitoring of antibiotic susceptibility is important as the first line treatment for actinomycosis is a high dose therapy of β-lactam antibiotic [1] and without routine testing, there may be an oversight in the shift of resistance patterns [2]. Another research group recently assessed the cytotoxicity of silver nanoparticles (AgNPs) against Actinomyces viscosus by conducting a Minimal Inhibitory Concentration (MIC) experiment using the broth microdilution methodology [6]. The MIC was found to be 13.3 μg/ml and the MBC was found to be 26.6 μg/ml [6]. The mode of cytotoxicity was also considered, and it was also found that AgNPs mediated the production of Reactive Oxygen Species (causing structural damage to the cell membrane and organelles) leading to significant nucleic acid leakage and impairing protein synthesis in comparison to controls.
To learn more about Actinomyces israelii and other clinically relevant Gram-positive anaerobes, click here to check out our "Introduction to Clinical Anaerobic Bacteriology" guide.
References
Gajdács, M., Urbán, E., & Terhes, G. (2019). Microbiological and Clinical Aspects of Cervicofacial Actinomyces Infections: An Overview. Dentistry Journal, 7(3), 85. MDPI AG
Alexandra Wolff, Arne C. Rodloff, Paul Vielkind, Toralf Borgmann and Catalina-Suzana Stingu (2022) Antimicrobial Susceptibility of Clinical Oral Isolates of Actinomyces spp. Microorganisms
Megan E. Jacob (2022) Veterinary Microbiology 4th Edition John Wiley & Sons 10.1002/9781119650836
Ceren Bilgilier, Thorsten Fuereder, Marie-Theres Kastner, Zoltan Vass, Ingeborg Brandl, Hanka Sahbegovic, Christian F. Singer, Christoph Steininger (2022) Oral Abundance of Actinomyces spp. in Breast Cancer Patients Oncology
Petros Ioannou, Stella Baliou, Ioanna Papakitsou & Diamantis P. Kofteridis (2022) Infective endocarditis by Actinomyces species: a systematic review Journal of Chemotherapy
Hanaa Ghabban , Sultan F. Alnomasy , Hamdan Almohammed, Ohoud M. Al Idriss , Sameh Rabea, Yasir Eltahir (2022) Antibacterial, Cytotoxic, and Cellular Mechanisms of Green Synthesized Silver Nanoparticles against Some CariogenicBacteria (Streptococcus mutans and Actinomyces viscosus)