The A155 HEPA Workstation is a huge, double workstation, perfect for accommodating a variety of laboratory equipment including cell sorters, colony pickers, microscopes, spiral platers and high throughput bioreactors. It boasts a fantastic range of features including a mammoth capacity of 1,840 litres, two airlocks, two removable fronts and four patented oval ports which enable the user to work comfortably - gloved or bare handed. Each port includes an isolator switch so that one port can be used at a time if required.
Two new options are available for the A155: a rotating turntable (up to 3 per shelf) which holds up to 80 x 90mm Petri dishes, and a movable platform to facilitate the movement of heavy items of equipment inside the chamber. Other factory-fitted options include: a front loading single sample entry system, cable glands, shelves with optional storage trays, anaerobic conditions monitoring and data logging. The A155 is supplied with a double internal power socket and bespoke trolley with shelves as standard.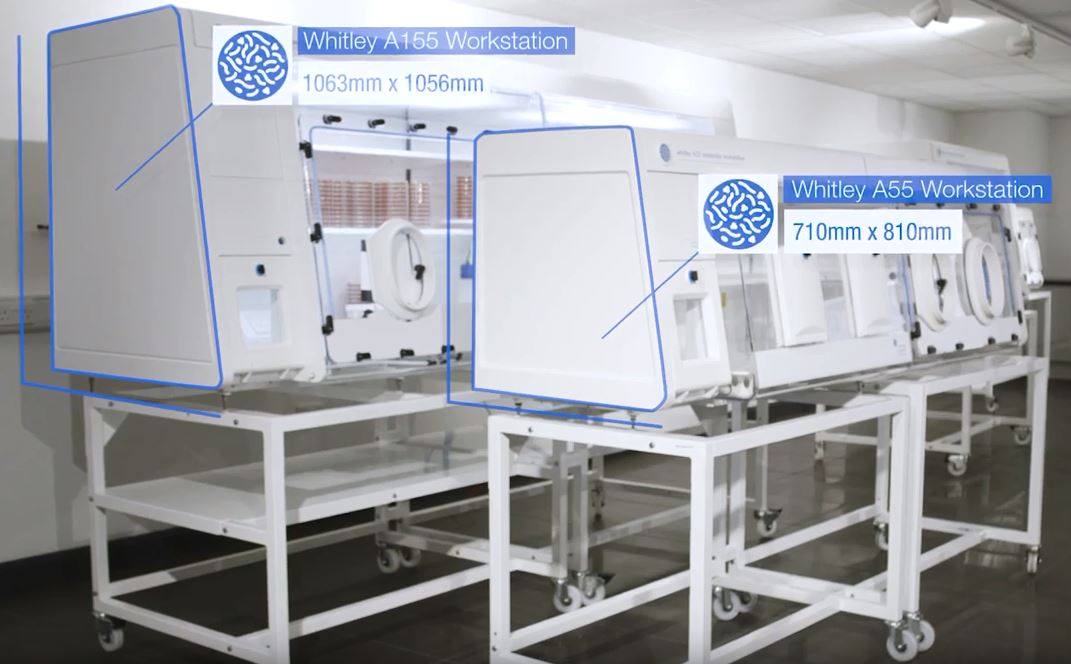 Significantly taller and deeper than the A55 Anaerobic Workstation (pictured right), the A155 is twice the size of the A135 HEPA; these two workstations comprise the beginning of the Whitley A100 Workstation Range - watch the introductory video here.

Fully comprehensive maintenance and breakdown contracts are available on all of our products to prolong the life of your investment. (Note: different arrangements apply in different countries).
For more information on any of our products or service contracts, contact us here.