Unique laminar airflow technology in a modified atmosphere workstation ...

Specially designed for anaerobes ...
The A135 GMP and A155 GMP Workstations maintain strict anaerobic conditions, operating from two gas supplies for the most effective and efficient running costs. These anaerobic chambers provide Grade A air cleanliness (EU GMP) and combine sterile laminar airflow, positive operating pressure, and physical isolation, to provide highly effective product protection. Due to being a completely closed, re-circulating, isolator system, these workstations can be housed in a Grade D cleanroom during GMP compliant use.
This workstation is idea for a range of applications such as faecal microbiota transplant (FMT), live biotherapeutics, manufacture of probiotics, biopharmaceuticals and microbiome therapeutics.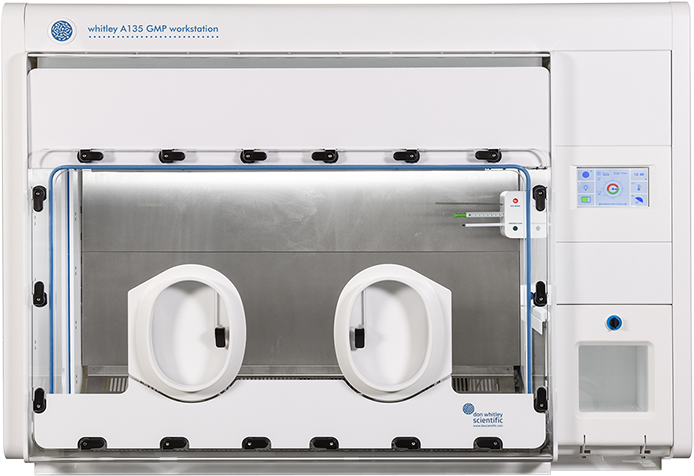 With additional standard features such as a bespoke trolley, automated dehumidification, rapid 60 second airlock, patented oval glove ports, remote access and data logging plus a variety of options such as a H14 HEPA filtered airlock and air sampling ports, your GMP Workstation can be tailored to your particular requirements.
HEPA filter face velocity/uniformity of laminar flow and Dispersed Oil Particulate (DOP) tests are carried out in accordance with ISO14644-3 to validate system integrity and performance. All tests are performed by an independent organisation.
For further information or to request pricing or a demonstration, please contact us on sales@dwscientific.co.uk