GMP Workstation CSM Glove (Size 6) Quick Fitting (Single)

Quick fitting glove for use with Whitley GMP Workstations
Ref: A09012
Rollover Image to Zoom
GMP regulations require specialised robust gauntlets to be used in GMP high risk processing applications.
Whitley GMP Workstations can be supplied with an innovative quick change 'BCS' gauntlet made of non-shedding material (such as Neoprene, CSM, etc) that allows uniquely easy and rapid changing of gloves without loss of containment or atmospheric conditions. These two piece gauntlets are produced by a world leader in the production of isolator gloving systems. This order code is for the glove section of these gauntlets.
The BCS gauntlet improves existing glove replacement methods, which are often delicate, complex, laborious, prone to user containment errors, and often can only be replaced by users with specialised accredited training. The gauntlet provides a simple and effective quick-change method to reduce the risk of micro-tears, condition containment errors, is a much more comfortable solution for customers and can be replaced by users without the requirement for special training.
This product code is for the (extra small) glove portion of the gauntlet.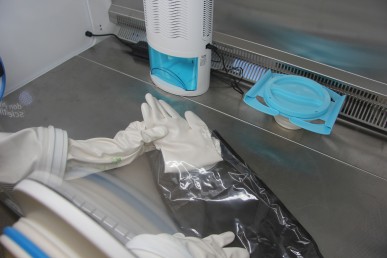 For a slightly larger fitting, try the Size 7
GMP Workstation CSM Glove (Size 7) Quick Fitting (Single)