The DILUWEL Gravimetric Diluter was developed in response to extensive market research conducted at hundreds of laboratories, especially those specialising in microbiology food testing. DILUWEL manufacturers, Alliance Bio Expertise, identified that there were more samples to test than ever before, less staff available to perform tests, limited bench space, and a need for greater precision. Then they identified the solution...
Designed to address each area of concern, the DILUWEL is a fast, accurate, small gravimetric diluter which automates the laborious task of making and standardising initial sample dilution.
What sets this gravimetric diluter apart?
Easy to clean: the durable, stainless steel bag holder makes cleaning easier than ever, and since the DILUWEL weighs only 8kg it is easy to lift and clean underneath too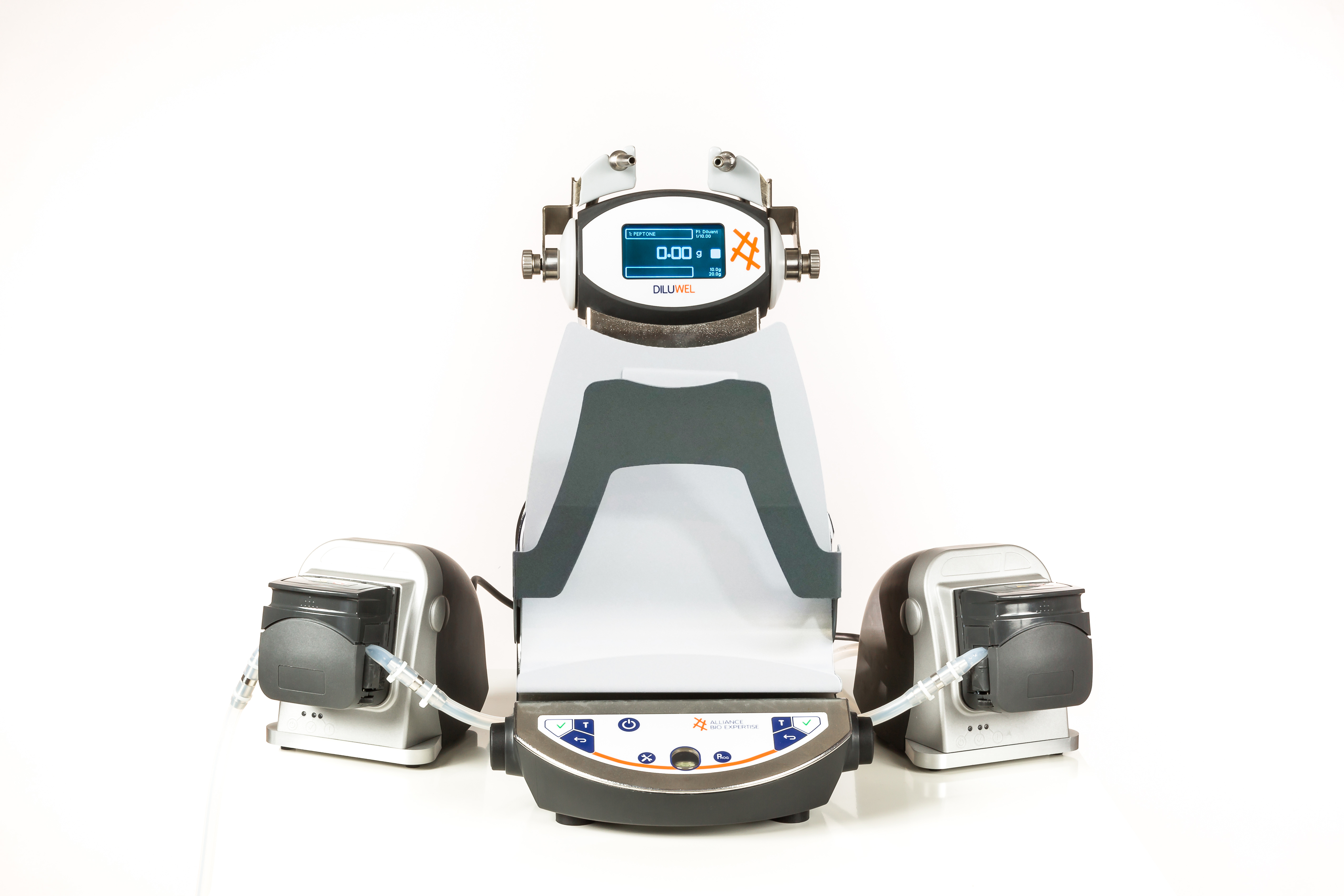 Scalable: Up to 3 additional pumps can be installed if required
Central digital display clearly shows the sample weight
Ambidextrous controls easy for every operator
Dilution factor of 1:1 to 1:100
Speed: 225 ml of diluent can be added in 12 seconds (or 9 seconds in turbo mode!)
Prevent cross-contamination: The 'finger-stop' nozzle helps to prevent cross contamination during installation
Stability: Patented vertical weighing system offers greater stability and accuracy due to a fully integrated spirit level and height adjustable feet
Options: Label printer, bar code reader and foot pedal also available
~ Customer Testimonial ~
Last year, we installed several DILUWELs for a market-leading food testing lab in Northumberland who routinely carry out a range of microbial tests for Listeria, Salmonella, E. Coli and other bacteria. We asked the lab's Microbiology Production Manager how the staff are finding the new equipment:
"Footprint-wise the DILUWEL takes up a lot less space than previous models we've used, and it's also more lightweight and far easier to clean. Something that is great for our QC is the ability to assign tolerances, so if the sample weight is outside of the designated range the DILUWEL won't dispense. We really like the metal bag holder, having used plastic ones in the past which were prone to splitting or snapping."