Here in the DWS microbiology laboratory, we specialise in conducting Minimal Inhibitory Concentration (MIC) testing and Minimal Bactericidal Concentration (MBC) testing against fastidiously anaerobic bacteria, including commensals of the gut microbiome, several of which need specific growth requirements. We comply to CLSI guidelines for susceptibility testing of anaerobic bacteria [1,2,3], using standardized agar dilution MIC methodology, and the appropriate medium for the organisms that we are testing. When conducting an MIC study using anaerobes, the whole process is carried out in an oxygen free environment within a Whitley A95 TG Workstation. We also have an extensive culture collection of anaerobes isolated from human faecal specimens including Bacteroides, Clostridium, Eggertella and Fusobacterium species, that we can provide for our customers when studying the efficacy of antimicrobial agents on their behalf.
MIC testing provides valuable insights into the susceptibility and emerging resistance of pathogens to antimicrobial agents. Continual monitoring of resistance is vital for guiding clinical treatment decisions and optimizing drug dosages, and there has been an increased interest in resistance rates amongst anaerobic bacteria in the past several years. Globally, there has been an emerging trend of resistance against β-lactam antibiotics, both alone and in combination with β-lactamases and carbapenems, amongst Bacteroides and Parabacteroides genus over the last 20 years [4]. Across Europe, there have reportedly been increases of resistance to amoxicillin: clavulanate, cefoxitin and imipenem from 0.3-3% to 10% within Bacteroides fragilis groups. Studies in Canada have found an increased prevalence of resistance against amoxicillin: clavulanate from 0.8% in 1992 to 6.2% in 2011 within B. fragilis groups [4]. The US has reported an increase in resistance in Bacteroides spp. and Parabacteroides spp. against ampicillin: sulbactam (from 4% to 6%) and piperacillin: tazobactam (from 2% to 7%) between 2007-2009 and 2010- 2012 [4].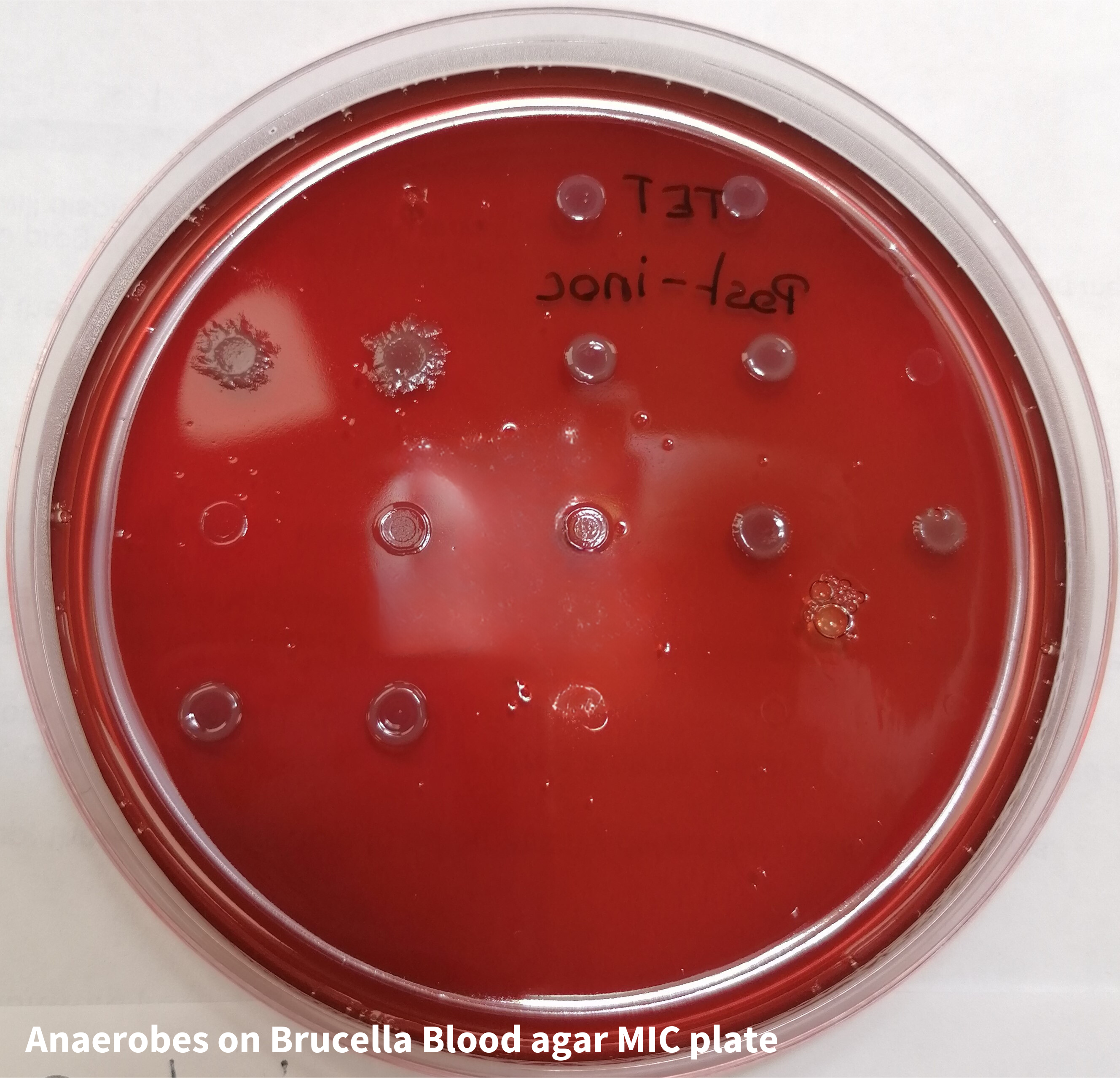 Recently, Hashimoto et al (2023) isolated 86 B. fragilis and 58 non-fragilis Bacteroides strains from human clinical specimens collected in Japan, from 2011 – 2021 and assessed the susceptibility to piperacillin, cefotaxime, cefepime, meropenem, clindamycin, and minocycline as well as analysing the prevalence of cepA, cfiA, cfxA, ermF, nim, and tetQ resistance genes in Bacteroides spp. [5]. Resistance rates to penicillins and cephalosporins in non-fragilis Bacteroides spp. were significantly higher than the rates in B. fragilis isolates. Amongst B. fragilis isolates with the cfxA gene, the resistance rates of piperacillin, cefotaxime, and cefepime were significantly higher than those without the gene, and some B. fragilis isolates that had the cfiA gene, displayed resistance to meropenem. Anaerobes on Brucella Blood agar MIC plate
Written by DWS Microbiologist Charlotte Austin
Do you have an antimicrobial product in development? Maybe we could help. Contact us today by calling on +44 (0)1274 595728 or complete our online contact form.
References
CLSI document M07: Methods for Dilution Antimicrobial Susceptibility Tests for Bacteria that grow Aerobically – 11th Edition (2018).
CLSI document M100: Performance Standards for Antimicrobial Susceptibility Testing – 33rd Edition (2023).
CLSI document M11: Methods for antimicrobial susceptibility testing of anaerobic bacteria – 9th Edition (2018).
Reissier S, Penven M, Guérin F, Cattoir V (2023). Recent Trends in Antimicrobial Resistance among Anaerobic Clinical Isolates. Microorganisms, 11(6), 1474. MDPI AG
Hashimoto T, Hashinaga K, Komiya K, Hiramatsu K, (2023) Prevalence of antimicrobial resistant genes in Bacteroides spp. isolated in Oita Prefecture, Japan. Journal of Infection and Chemotherapy Volume 29 Issue 3, 284-288